Shopping Cart
Your Cart is Empty
There was an error with PayPal
Click here to try again
Thank you for your business!
You should be receiving an order confirmation from Paypal shortly.
Exit Shopping Cart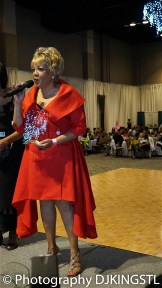 Okay, well I think I have finally calmed myself down after Stepaganza and this is what I have to say about the event...........I HAD A BALL, ONE OF THE BEST TIMES OF MY LIFE and I WILL BE BACK! This weekend affair was extremely nice. The meeting of new steppers from other cities was endless and everyone was very cordial, the respect that these other cities have for "The Lengends" is emotionally overwhelming! The love received from the next generation of steppers, their interest in the history and just to hear and see and be a part of something that most of us have done all our lives was amazing! It was a party from the beginning to the end! To all the people that traveled to St. Louis in support of me (family & friends) I thank each and everyone of you for making this event so very special for me, those that could not make the trip but sent me off with love and congratulatory's, I thank you also. This is an event that all steppers should try at least once to make, the entertainment was endless: Glen Jones, Bobby Hutton, TL Williams, Floyd Robinson (Better Days), Dee Edwards, Felony, Big Mucci (The Bikers Shuffle) and our very own Tina Turner Revue!
Kat N Tha Hat & Word of Mouth Entertainment Keith Hubbard....I THANK YOU and appreciate your hard and dedicated work and wishing you much continued success! To my fellow steppers just remember: YOU CAN'T BEAT FREE!!!!
Categories: None
/